Congratulations to our Kindergarten classes who did an outstanding performance of "Hantzel & Gretel Eat Right". GO FALCONS!
Here we go
Band Review Sonora High School

Soulsbyville Marching Band practicing for the upcoming Mother Lode Parade.

Congratulations to 4th grade students Nicolas Williams and Peyton Monsen. Nicolas won a 1st place blue ribbon and Peyton won a 2nd place red ribbon in the Tuolumne County Arts Alliance exhibit. These projects along with various other student's are on display at the Tuolumne County Library until May 13th.

3rd grade students having fun while practicing Equivalent Fractions!

Support our school by visiting
www.soulsbyvillespiritwear.com
and receive free shipping today through 4/23/18. Many choices and designs to choose from.

Soulsbyville School: ATTENTION: Due to the recent weather cancellation days, our last day of school will be Friday, June 8th. Students will be dismissed at 12:15 on both Thursday, June 7th and Friday, June 8th. Please update your calendar accordingly.

Smokey the Bear stopped by for bear hugs and an important fire safe message! WE LOVE YOU SMOKEY!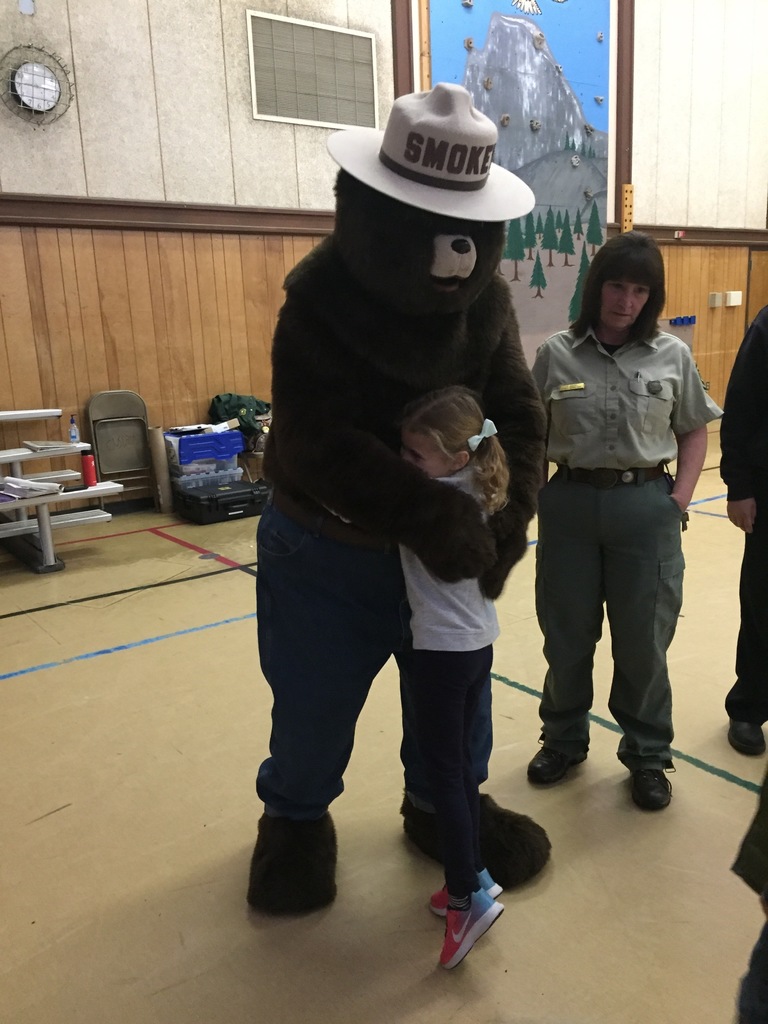 SATURDAY SCHOOL will be held on March 10th from 9:00-1:00 in the Cafeteria for students who have absences. Students who attended a previous Saturday can be seen making slime and having a great time.

Attention 4th grade parents: The Monterey Fieldtrip scheduled for this Friday, March 2nd will not be canceled for inclement weather. The aquarium does not have any other dates available for postponement. We understand if you need to cancel as a chaperone, but please let your teacher know ASAP. The trip is scheduled to meet in the cafeteria at 6:30AM and depart the campus at 6:45. Please allow extra time for road conditions when bringing your child to the campus. This fieldtrip will proceed even if the decision is made to cancel school for the remainder of students. Students are scheduled to return to campus at 8:30PM.

Tuesday, February 27th school will be on a 2hr delay due to expected icy road conditions.

Friday, February 23rd school is canceled due to weather and unsafe road conditions.

PTO's Father/Daughter Dance was a success! Thank you to all who participated. We hope you had a magical night!

Thank you Sheriff Mele, CHP Officer Pulido and Lt. Ferriera for stopping by and spending quality time with our students. Please come back soon!

Congratulations Arianna Butler for earning the 2018 Every Student Succeeding Award!

Guest speaker Seth Connolly, from Tuolumne County Resource Conservation District presented a STEM/Watershed education program today on campus.

THE 100th DAY OF SCHOOL WAS LOTS OF FUN – The 100th and 200th student in the lunch line received a giant cookie that contained 100 chocolate chips. Congratulations!

Our Kindergarten students performed this morning at our Character Counts assembly and presented a lesson on the trait RESPECT! Thank you Kindergarten! Go Falcons!

Thank you for supporting our Music Program fundraiser!